My Path has unfolded before me.
I started my journey in London, England, born into a family where Service was of essence, and where Jewish culture and history sowed the seeds of the Spiritual Journey of Light over Darkness.
I followed the calling to Toronto where I have furthered my love for teaching and learning; a passionate Grade 7-12 teacher for thirty years guiding teenagers and families through these challenging yet crucial years. My feet have gravitated to many a dance floor worldwide, growing to the beat in 5 Rhythm Movement classes and many African and Indigenous dance classes. In 2008, I graduated from the Transpersonal Therapy Centre where I developed my ability to hold space for others, deepened my understanding of the Mysteries of Life and the Wisdom traditions and opened up to Who I am, and Who I am meant to be.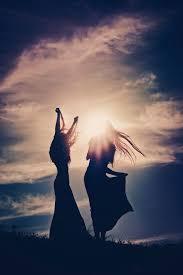 For the last ten years, I have been facilitating Movement, Meditation and Dance workshops individually and in groups. I also provide counselling to individuals (youth and adults) and families both online and in person. Whether on the dancefloor or one on one, my Work centres around the ideas of relationality and connectivity. I believe in the profound healing that happens in between the space between two people and also feel the mystical and graceful Force that connects us like a spider's web to each other, to our ancestors and to the Sacred.
Please feel free to contact me at sacred_dance@yahoo.ca if you are interested in any personalized or individual sessions or to be put on my mailing list for Movement, Meditation and Dance workshops.
May your Path be filled with sunshine.